Welcome to Rob Furney Jr's Railroad Picture Archives!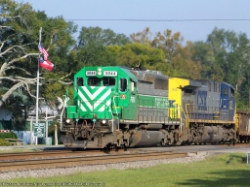 Welcome to the RRPictureArchives.NET contributor site of Rob Furney Jr.



Welcome to my little corner of Railroad Cyberspace!


Thanks for stopping by! Feel free to browse around, and leave comments if you'd like!


I grew up along the Seaboard Coast Line in the Tampa Bay Area, endearing me greatly to the great old road and its predecessors. Like most, I wish I would have had the resources to better take advantage of those days. I'm making up for it now though, taking my camera trackside for anything that might roll through. Be it a run-of-the-mill Dash 9, Heritage unit, or anything in between.

My family is originally from Virginia and Pennsylvania, and as a result I spent many summers there as a kid. So naturally I am especially fond of the old RF&P, N&W, Southern, Pennsylvania, and The Reading. If I had to choose though, I would have to list the SCL, RF&P, and the N&W all at the top.

~ My heart is warm with the friends I make,
and better friends I'll not be knowing...

Yet there isn't a train I wouldn't take,
no matter where it's going. ~

- Edna St. Vincent Millay


You may browse my collection of pictures via the menu located on the left hand side of the page. I hope you enjoy the collection and thanks for stopping by!
Note: This site is best viewed in Internet Explorer 6.0 or above.
Select one of the links from the menu on the left to begin browsing the collection.
Site Stats
| | |
| --- | --- |
| Photos: | 559 |
| Locomotives: | 220 |
| Rolling Stock: | 69 |
| Locations: | 24 |
What's New?
New Photo Albums
CSX In Florida
-Added 2/21/2016 8:59:16 PM
NS 30th Anniversary
-Added 7/5/2012 2:07:21 PM
Spencer, NC
-Added 5/25/2011 1:24:11 AM
North Conway, NH
-Added 1/20/2011 1:45:00 PM
Salisbury, NC
-Added 1/20/2011 1:19:26 PM
Tampa Union Station
-Added 4/18/2008 8:51:03 PM
TECO Streetcars
-Added 4/13/2008 10:52:27 PM
Folkston, 3/20-22-2008
-Added 3/23/2008 10:15:46 AM
Southeastern Railroad Museum
-Added 1/17/2008 9:07:22 PM
Auto Train Facility at Lorton, VA
-Added 1/13/2008 8:12:42 PM
Baltimore and Ohio RR Museum
-Added 1/13/2008 1:58:59 PM
Richmond, VA
-Added 1/12/2008 11:04:43 PM
Winter Park, FL, 2005
-Added 1/12/2008 10:29:18 PM
Folkston, GA 11/9/2007-11/11/2007
-Added 11/12/2007 10:26:55 AM
Trip to Virginia, May 2007
-Added 10/23/2007 10:07:41 PM
ACL Tarpon Springs Depot
-Added 10/23/2007 9:10:06 PM
CSX Ballast Train
-Added 10/23/2007 8:37:50 PM
CSX Around Tampa Bay
-Added 10/22/2007 10:57:36 PM
Conrad Yelvington
-Added 10/22/2007 10:41:32 PM
Labor Day at MP 621.1
-Added 10/21/2007 10:17:46 PM
Florida Railroad Museum
-Added 10/21/2007 9:34:08 PM
more...
Updated Photo Albums
more...